Moderators: Papa's new wife, MrsBeasley, Voodoo Lady, Tracy
---
Distant Relative
Posts: 48
Joined: Mon Oct 31, 2005 6:44 pm
Location: Bretton Hall
Contact:
I'd go with Jam and Monkey Dust to. Very dark, but hilarious.
"Get sat down if you like"
Herr Lip: "Justin, Justin, my very own Justin"
---
Mayor of Royston Vasey
Posts: 1549
Joined: Fri May 27, 2005 6:02 pm
Contact:
Monkey Dust was fecking hilarious. Looking back at it, I suppose it was quite dark, I never really noticed that. What with the peadophiles and the family that ate the head, yeah I suppose it was quite dark. I loved that show, I need the DVD.
---
---
Mayor of Royston Vasey
Posts: 2367
Joined: Tue May 17, 2005 4:17 pm
Location: A bridge over the A3
My dad is always trying to make me watch Monkey Dust. All the sketches seem the same to me!
"I've been in love with the morbid, ebony-black grotesqueness of the 19th century since I was knee-high to a funeral mute."

---
u gotta watch humain remians if u haven't seen it it's genius " to me tinnitus sounds a bit like this aaaaaaaaaaaaaaaaaaaaaaaaaaaaah *pause* aaaaaaaaaaaaaaaaah"
or the whole "abba beatles ..." bit very funny !
saying that though i reccommended it to a mate at work and she couldn't watch more than two episodes coz it depressed her too much , dont understand how !
Brass eye is also rather dark but very funny bit like The Day Today
Jam is probably the darkest comedy show i've ever seen though saying that i also find it extremely funny it's basically the cast of Big Train minus Simon Pegg . It's made me really admire Mark heap too he's such a talented and versatile actor , rather good looking too !
Never seen Monkey Dust unfortunately
The League of Gentlemen goes without saying
i'd probably add one foot in the grave to the list of dark comedies too , it usually involves something tragic in it it most episodes and still manages to stay hilarious
Can't really think of any others !
"I've just come over a little queer"
"Ah yes, all come in my faceful"
"It's just a big bloody joke to you isnt it!"
"He's a very dangerous man he'll shit on you and set you on fire"
"Give me that you cycle of shit!"
---
Mayor of Royston Vasey
Posts: 8931
Joined: Tue Jun 29, 2004 7:40 pm
Location: At the church of St. Wangernumb or with TEH GHEYS!
Contact:
Human Remains is one dvd i would rather borrow before i buy from someone. Never been sure whether to sit down and watch or not. Is it like a mix of Nighty Night and Marion and Geoff?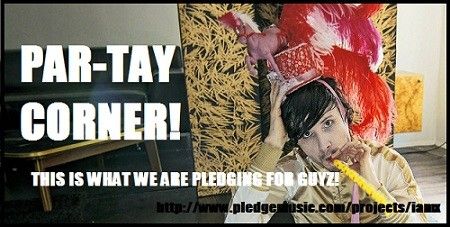 You're the Christmas, promising the summer
---
Mayor of Royston Vasey
Posts: 5374
Joined: Mon Jan 05, 2004 1:43 am
Location: UK
Contact:
Snuff Box is a little bit on the dark side!

Hangmen, etc?

(ooh I sounded like Jonatton Yeah!)

---
Mayor of Royston Vasey
Posts: 1390
Joined: Fri Nov 18, 2005 8:10 pm
Location: Banished
Contact:
Monkey Dust is ACE!!! I think it's deffo one of the darkest comedies I've ever seen! The first few times I watched it, I was a bit uncomfortable, but in the end I bloody loved it!!!
---
Mayor of Royston Vasey
Posts: 1002
Joined: Sun Jan 04, 2004 2:03 am
Contact:
Hmm I suppose everyones definition od 'dark' is gonna be a bit different. I would say the comedy that shocked me out the most was Jam....and believe me it takes ALOT to shock me in terms of 'what it is OK to laugh at'. I did find it funny, and after seeing a couple of episodes I didn't find it that shocking anymore. But it's something about the weird style of the whole show that makes it seem darker than it would do if it was in a more traditional format.

I find TLOG dark in a different way though. I've given up comparing TLOG to anythng as it's been my favourite programme since the very first episode was shown; however, I do get annoyed when people say how 'surreal' or 'bizzare' it is and don't see past that element. Yes there is alot of this to it, but I was firstly drawn to the mixture of poignant drama and tragi-comedy which is how I would define the League's type of dark-ness.

Hmm, bit of an essay there from me LOL!
---
---
---