Moderators: Papa's new wife, MrsBeasley, Voodoo Lady, Tracy
Mayor of Royston Vasey
Posts: 16950
Joined: Sat Apr 03, 2004 11:56 am
Location: The Hogwarts Kitchen, helping Hermione make S.P.E.W badges
Oh, that's good! I'm not even a fan of his, but I was still appalled at the thought of such discrimination. Being fired for getting clean? Asinine!
---
I've got M.E. I'm really tired!!
---
Mayor of Royston Vasey
Posts: 11565
Joined: Tue Jun 29, 2004 7:40 pm
Location: At the church of St. Wangernumb or with TEH GHEYS!
Contact:
Julian spoke of that on Adam Buxton's new show on Sunday. Could be interesting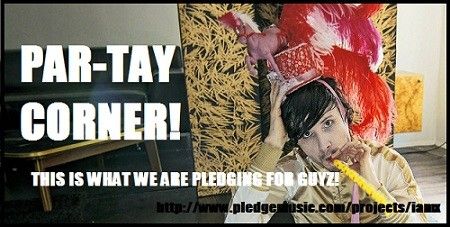 You're the Christmas, promising the summer
---
Mayor of Royston Vasey
Posts: 17590
Joined: Thu Apr 22, 2004 8:44 pm
Location: The Batcave
Just seen this..... errmmmm..... WHY???????
Why would you do that to yourself? Can't you just make a t-shirt or some jewellery or summat? Or if you do want a tat then the skull head?
"You got me confused with the other Angel. You know, the one in the dirty trenchcoat. The one who's in love with you"
---
Local Shop Owner!
Posts: 282
Joined: Fri Jun 16, 2006 8:27 pm
Location: Sunderland Staring at my computer!!
Now that is terrifying! Man, I would really regret having that done!!
What, what??
---
Distant Relative
Posts: 29
Joined: Mon Jan 03, 2011 8:42 pm
Location: Papa Lazarou's Travelling Circus
They're ok, but since I've been introduced to Psychoville and LOG, Mighty Boosh kind of just paled in comparison for me. Though I did get hooked on the Eels song a while ago & I have to admit I find the Hitcher pretty cool indeed.
You can trade your gloom
For a rubber room
And injections twice a day!
---
Outsider
Posts: 18
Joined: Wed Apr 13, 2011 6:49 pm
Location: The Legz Akimbo Van
Aha, I quite like the Hitcher too
I think the first ever Boosh episode I saw was the first one from series three, but after that I was hooked.
And I know that this is a very unpopular opinion but I prefer Howard to Vince. I'm not overly sure why; I think Vince seems a little too eager about fashion and that whereas Howard Moon is who he is - listens to Jazz, is a writer and has a dodgy dress sense. That appeals to me much more
And the Crack Fox is quite entertaining also

Just drive into them, Dave. They can't stop theatre! ~ Ollie Plimsoles
I thought we could have a little party. Look, I even brought some music... ~ Tony
---
Not at all. I love them both pretty much equally with maybe Howard just winning out.
Interesting you say that Babalazarou because The Boosh was the first thing to capture my imagination and intense love after The League. Totally different but equally genius in my opinion.
I've got M.E. I'm really tired!!
---