Moderators: Papa's new wife, MrsBeasley, Voodoo Lady, Tracy
Mayor of Royston Vasey
Posts: 3558
Joined: Mon May 17, 2004 9:47 pm
Location: Holding Ross hostage at the Job Centre.. ah sellotape has so many uses
Contact:
Laura_H wrote:
HAHAHHAHAAAHAHAHAAAA he is fantastic! I love his killer bouncy thing! Very funny
Is that why i have to wash my face with a potato?

Kind of like a .. David .. Brown.
---
slippster
I'm quite a bit behind but I watching the DVD of Monkey Dust last night and it's the first time I've ever seen it.

All I can say is that it was *beep*' fantastic. Ivan Dobsky is excellent, the first time cottager and that bloke that lies to his wife are good aswell.

Just like hearing phrases like spit roasting and *beep* sponge on the telly.
---
Becky
Fat Pen wrote:It's quite clever, quite observational, but just ain't funny. It makes me quite depressed that Peter Baynham writes additional material for it.

Any other opinions?
hmmmm....i didn't think much of this series either
but the first series is brilliant!i just LOVE the timmy scetches!
---
Local Shop Owner!
Posts: 819
Joined: Sat Sep 04, 2004 11:31 pm
Location: down in the ghetto dancing the fury boogie
Contact:
i've not seen monkey dust at all.
im gonna have to give this a look i think
hhmmm, *nods* yeeesss, shall give it a whirl
---
cherry bakewell
So misstoadfacedenton have you tried Monkey Dust yet? I caught both series on tv, loved the first one, the second was a definate no no.
P.s. I love the David Bowie 'Labyrinth' Avatar... he has been in my fantasies ever since that movie, I always wanted to play the girl (sorry, I'm crap with names) who he fell in love with...ummmm
---
Mayor of Royston Vasey
Posts: 2836
Joined: Wed Mar 30, 2005 7:04 pm
Location: Frolicing in the park with Pierre, throwing Flip flops in a haphazard fashion
Contact:
i love monkey dust, im not sure which series i saw but i loved it! just so bizarre! and very depressing. the dad who has to sell his daughters things is so sad but v funny
---
---
---
---
Mayor of Royston Vasey
Posts: 1510
Joined: Mon Jun 20, 2005 12:27 pm
Location: South Australia
Contact:
Wow, this is an OLD thread
But I wanted to search for one about the show before I started one myself - now I don't have to, heh!
Yes us Aussies are behind with things. This has only just recently been shown here on cable (with the likes of Phoenix Nights and Max & Paddy). I haven't seen too many episodes but my b/f really liked it, hehe!
Ivan is one creepy weirdo, but that whole Mr Hoppy thing is hilarious.
http://en.wikipedia.org/wiki/Monkey_Dust

LOL!
---
Mayor of Royston Vasey
Posts: 8931
Joined: Tue Jun 29, 2004 7:40 pm
Location: At the church of St. Wangernumb or with TEH GHEYS!
Contact:
"I'm the meat slave murderer only i never did it!"
I love him. Monkey Dust series 1 was my fave.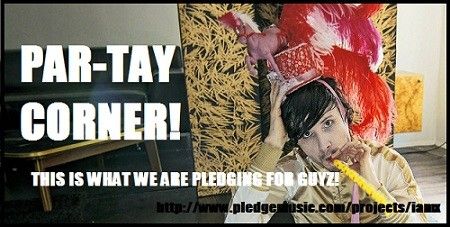 You're the Christmas, promising the summer
---
Mayor of Royston Vasey
Posts: 1510
Joined: Mon Jun 20, 2005 12:27 pm
Location: South Australia
Contact:
LOL I want to see more now... it was disturbing to begin with, but the more I watched it the funnier it got (kind of like my first introduction to TLoG).
---