Moderators: Papa's new wife, MrsBeasley, Voodoo Lady, Tracy, papalazarou
Mayor of Royston Vasey
Posts: 2700
Joined: Sun Jul 24, 2005 10:18 pm
Location: In Steve's hedge. With binoculars.
Contact:
Like Reece's birthday thread, I think this one got lost in the timewarp. Here's one ready for next year.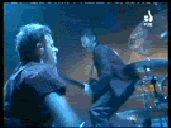 ---
Mayor of Royston Vasey
Posts: 1510
Joined: Mon Jun 20, 2005 12:27 pm
Location: South Australia
Contact:
Tis the 14th
Happy Birthday Jezza!
---
Mayor of Royston Vasey
Posts: 3396
Joined: Mon May 08, 2006 11:09 am
Location: I did a bad murder...
Contact:
Happy Birthday!!!
"I don't know that I share your view"
---
---
Local Shop Owner!
Posts: 496
Joined: Fri Sep 02, 2005 12:58 pm
Location: On stage at 'The Salmon of Knowledge', Lundun
Happy Birthday Jeremy!
Have we missed the cakes?
---